"For with the heart one believes unto righteousness…" Rom. 10:10a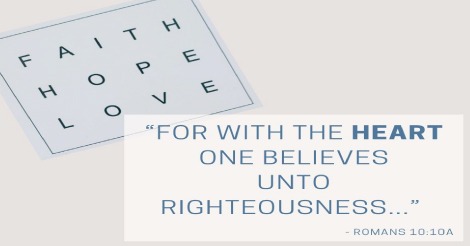 Do you have stable faith? The two pillars of faith are: 1) the account of creation, & 2) how God created man in His likeness & image. If we don't believe God's account of creation, we'll never be stable in our faith. When Jesus taught about faith in Mark 11, He was following the example of the faith God used to create the world. God first conceived it in His heart; and then, He had combined intention. Neither can be minimized, as they are both critical in establishing faith.
Faith is a matter of the heart. Love is a matter of the heart. Anything that is a matter of the heart means that we must conceive it in our heart. For example, righteousness is the result of what we believe in our heart & conceive with intention. When there's the intention of righteousness, the grace of God to be righteous manifests. We don't have to rely on our power; we rely on the strength & power of God to walk in righteousness.
What does it look like when you participate with intention? In other words, if you love someone but sometimes make that person angry, you must go back to your heart & say, "Love is patient, love is kind." This isn't just confessing; you begin to imagine what it looks like to be patient & celebrate the effect it has on your loved one. When you're willing, with intention, the power of grace arises in you to make you able!
If you'd like to discover more truths behind Finding Divine Life, CLICK HERE to watch this week's CyberChurch message "The Offense of Righteousness."