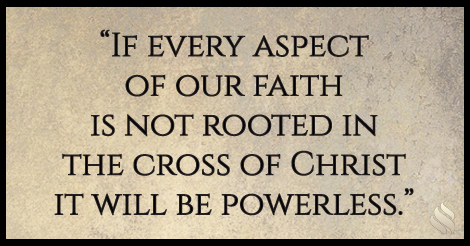 Paul said we could have our faith in the wisdom of men, i.e. clever sermons, politically correct messages and those things which appeal to our intellect; or we could have our faith in the cross of Christ! He explained in these words, For Jews request a sign, and Greeks seek after wisdom; but we preach Christ crucified, to the Jews a stumbling block and to the Greeks foolishness, but to those who are called, both Jews and Gentiles, Christ the power of God and the wisdom of God (1 Corinthians 2:22-24). The whole world wants a gospel that appeals to their personal preferences! If the gospel we believe does not produce power in our own lives we go back to the cross and discover what we're missing, leaving out or refusing to believe!
Paul and the early Church preached the message of the cross: the death, burial and the resurrection. If every aspect of our faith is not rooted in the cross of Christ it will be powerless.  JOIN ME this week and begin to supercharge your faith with the message of the cross!
Join Our Mailing List!
Subscribe to our mailing list and you'll get notifications of new posts along with advanced notifications of sales, special offers, and subscriber-only discounts!
Welcome to the Impact Ministries family! Please check your email to confirm your subscription!