When something is too good to be true, it usually is not true, unless God says it is.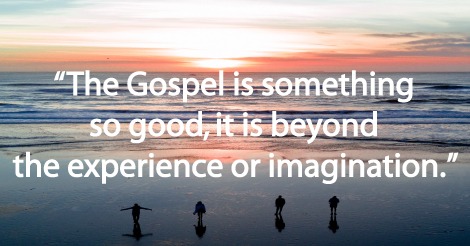 People with some biblical knowledge agree that the most accepted definition of the word gospel is good news. Jesus brought good news that: brings joy about the Kingdom of God, is available to all, can be entered into by anyone at any time, is not hard like the religious leaders portrayed it, and makes it possible to connect directly to God without going through the religious hierarchy.
When Jesus preached salvation, it was apparent to the listener that He was talking about a quality of life here on earth. Paul described it this way, "Eye hath not seen, nor ear heard, neither have entered into the heart of man, the things which God has prepared for them who love Him. But God hath revealed them unto us through His Spirit…." (1 Cor. 2:9-10, KJV) The Gospel is something so good, it is beyond the experience or imagination. It is so good, it can only be revealed by the Holy Spirit. The original language clearly refers to an experience that occurs in this life and continues into eternity.
Ask yourself: Do I choose to believe in the realm called the Kingdom of God even though I may not fully understand it? Am I actually willing to believe and follow God in this pursuit? If you are, make this choice by opening your heart to God right now and making the commitment to pursue the Kingdom Life Jesus offers freely.
CLICK HERE if you'd like to discover how to have Heaven On Earth now!
Join Our Mailing List!
Subscribe to our mailing list and you'll get notifications of new posts along with advanced notifications of sales, special offers, and subscriber-only discounts!
Welcome to the Impact Ministries family! Please check your email to confirm your subscription!