You cannot have faith for what God will do apart from faith for who He is!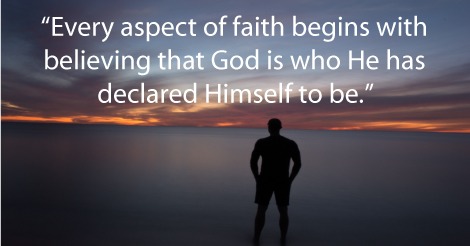 All of the promises God made to the Israelites were contingent on two factors: seeing God as He is and seeing themselves as God saw them. Even though we are born-again believers, it does not automatically mean we will enter into this place of God's rest, i.e., the Kingdom of God.
God is more interested in who we are than what we do, or it could be said that God is more interested in us BEING than doing; nevertheless, being and doing are a continuum. The seed is the being, while the fruit is the doing. Since "being" is a heart issue, the only way we can validate that we are who we say we are is by the fruit we produce. If what we do is contradictory with Godly character, it proves that we are not yet who we say we are.
Every aspect of faith begins with believing that God is who He has declared Himself to be. Faith in God is not merely believing He exists; it is believing He is the rewarder of those who diligently seek Him, that He is who His names declare Him to be, and most importantly, that He is exactly as Jesus represented Him. The Gospel of the Kingdom is unbelievable on every level until you believe the truth about God. You will only do that if you choose to believe Him about His identity, your own identity, and intend to be like Him as He really is!
CLICK HERE if you'd like to discover how to have Heaven On Earth now!