Do not be conformed to this world['s system], but be transformed by the renewing of your mind. ~Romans 12:2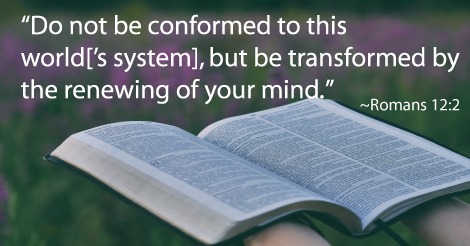 The only process for transformation in the New Covenant involves putting off the old man, renewing the mind, and putting on the new man. Renewing the mind, through a very specific biblical process, is the only way we can see where our thoughts and beliefs are in disharmony with God and, more importantly, see how to bring the Word into our lives in a way that is relevant and life-giving. This entire process is rooted in repentance, not just a one-time repentance but a dynamic harmonization between the mind and heart that continuously fine-tunes our mindset.
Most of our creativity is based on what we have already been told, which limits our capacity to see the world beyond the influence of our tradition. What few of us are willing or capable of admitting is that before coming to Jesus we may have never had an original thought, and since coming to Jesus, until we renew our minds, what seems to be revelation or new insight may actually be a revision of something we learned in the past.
Like all Kingdoms, the King's Word is the truth. You are not seeking to earn entrance into the Kingdom; you are seeking to renew your mind, so you will know how to function within the Kingdom.
CLICK HERE if you'd like to discover how to have Heaven On Earth now!