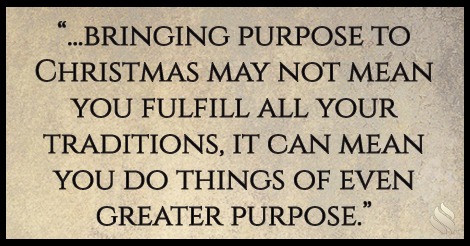 The 1828 Webster's Dictionary defines discouragement as, that which destroys or abates courage, depresses confidence or hope, deters or tends to deter from an undertaking, or from the prosecution of anything. Discouragement is like the flu, it hasn't infected every part of your body, but the over-arching symptoms negatively influence the function of every part of your body.

The commercialization of Christmas stresses us financially. Then, there's the desire to be with our family. Conversely, there's the dread of being with certain family members!  These individual situations cause us to lose our courage in a very general sense, making us feel there is nothing we can do that is worthwhile!

This exaggerated feeling of loss and sadness is genuine and legitimate, but the cure doesn't necessitate all those things we hoped to happen. We can choose other meaningful efforts that can bring joy to our heart. Remember, bringing purpose to Christmas may not mean you fulfill all your traditions, it can mean you do things of even greater purpose. JOIN ME this week, and we'll explore possibilities for creating a meaningful Christmas!