The hope of a good life is either poisoned or profited by our morals and ethics!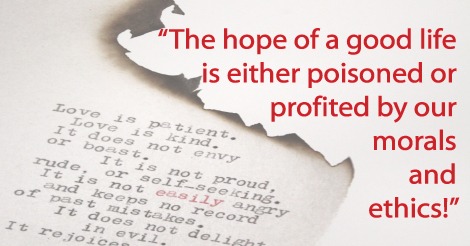 Much of Christendom, because of the advent of works-based religion, profoundly misunderstands why God wants us to be moral, virtuous people. God has always desired His people to embrace and value a virtuous life, i.e., seek first the Kingdom of God and His righteousness. God called Israel and the Church to represent Him on the earth, but we must represent Him as priests and kings of a holy God and a holy nation. The one characteristic that expresses holiness (uncommonness) more than any other is God's love for His creation.
Like the nation of Israel, we are called to live in a moral kingdom from our heart. Since the heart is the seat of our identity, our morality and ethics must be who we are, not simply what we do! This is where we enter into the paradox. Our morality is not what gives us the right to the inheritance; that right comes because we are heirs of God and joint-heirs in Jesus, and our morality and ethics do determine if we can possess our inheritance.
If you have surrendered to Lordship and chosen to become a disciple, you very quickly realize that walking in God's love must be your highest personal goal. Ask yourself these questions: Am I fully committed to living a godly life marked by walking in love as God describes it? Do I fully accept that God's commandments are the only basis for defining love? Do I depend fully on the strength of God to make me able to live this life in Christ?
CLICK HERE if you'd like to discover how you can have Heaven On Earth now!
Join Our Mailing List!
Subscribe to our mailing list and you'll get notifications of new posts along with advanced notifications of sales, special offers, and subscriber-only discounts!
Welcome to the Impact Ministries family! Please check your email to confirm your subscription!