Foresight gives us the power to choose the future we desire!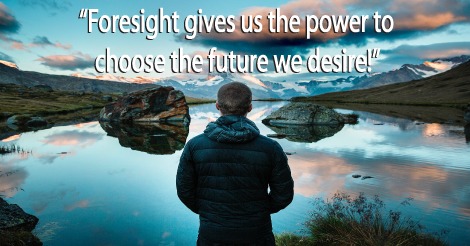 The majority of believers I've personally counseled are afraid to determine a clear intention or goal about the outcome of their faith. They are trapped in the religious, unscriptural quagmire of, "I'm not sure if it's God's will." They act as if God is making the decision about every prayer individually. The truth is, God has made His will abundantly clear. If we are in Christ, we are free from the curse of the law (Gal. 3:13); every promise God has ever made to anyone is yes for us (2 Cor. 1:20); we are qualified to be partakers in the inheritance (Col. 1:12).
One of the first core factors of faith is that we are created in the likeness and image of God. The root of our faith is how we were created. We function like God functions, and everything Jesus accomplished through the cross is for everyone who is in Christ! In Genesis, when God spoke, things happened, and He would say "It is good." Based on the Hebrew language, these words embody the idea of harmony. What God created was in harmony with His intention, with that which He conceived in His heart before He spoke.  
When you create a clear picture in your heart that is in harmony with the finished work of Jesus, and apply God-like faith, the end result will be good. Identify the end result you desire, conceptualize how you want to experience it, then ponder, imagine, and meditate on it. Once you can see it in your heart and feel assured it is yours, speak it into existence.  
CLICK HERE to discover how you can have Heaven On Earth now!