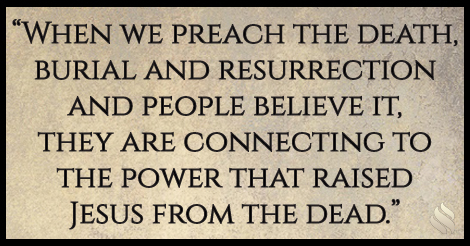 There are two main reasons we don't sees miracles like the early Church. First, we seldom preach or share the gospel with the lost. While it is scriptural to pray for other believers to get healed, that is not the norm. The norm for the believer is to get healed without ministry from someone else.
The second reason is our failure to effectively preach the cross of Christ! Paul said this to the people at Corinth, "for I determined not to know anything among you except Jesus Christ and Him crucified. And my speech and my preaching were not with persuasive words of human wisdom, but in demonstration of the Spirit and of power, that your faith should not be in the wisdom of men but in the power of God." 1 Corinthians 1:2-5.
The power that works miracles is the power that raised Christ from the dead. When we preach the death, burial and resurrection and people believe it, they are connecting to the power that raised Jesus from the dead. They experience resurrection power. JOIN ME this week to discover more about the resurrection power that overcame sin and death and is available to work in you!