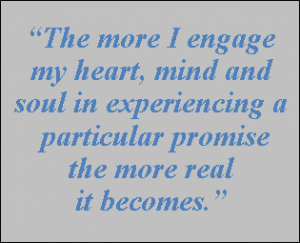 Faith isn't hard; we make it hard. We need it to be hard. When we make faith hard it justifies our giving up. But the truth is; we give up, not for a lack of faith but a lack of patience.
In Deut 30:11 God introduces the concept of faith and begins by saying, it is not mysterious, it is not far off, and no one has to accomplish a mighty feat to bring it to us. Even though God said that, we make it hard, mysterious and far away.
However, much of what we call faith is actually intellectual agreement. We read what God said and we judge it intellectually. For any number of reasons we give God "the nod." Since this makes sense to me I'll agree with it. But the problem is; when faced with any prolonged obstacle it stops making sense, we pass another judgment about God's promise and shift to another belief!
When we believe a promise in our heart, as opposed to our intellect, we pass no judgments on God, we are unaffected by circumstance. Belief in the heart believes the promise is already ours. We have no sense of waiting on a God who, according to religion, is always slow to respond. When we know something is already ours we are not waiting on the promise, we are waiting on the manifestation of that which is already ours! Rom 8:25 says it like this, if we hope for that we see not, then do we with patience wait for it.
The more I engage my heart, mind and soul in experiencing a particular promise the more real it becomes. Faith launches me out and patience holds me steady while walking the course. Click here to enjoy and put into practice these Four Exercises I do to build faith for FREE. With faith and patience we have no need to complicate faith!