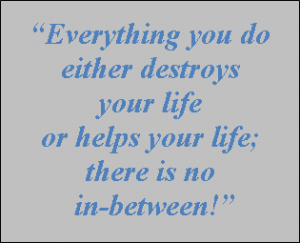 The first thing you need to do is stop killing yourself. Proverbs 18:9 says, He who is loose and slack in his work is brother to him who is a destroyer and he who does not use his endeavors to heal himself is brother to him who commits suicide (AMP). Everything you do either destroys your life or helps your life; there is no in-between!
A person who is dying from consuming poison will waste his time eating healthy food or taking medicine if he doesn't stop ingesting the poison. When you make the sincere decision to live in God's life and blessings you're also deciding to stop the beliefs and behavior that negates that decision. Having made that decision, the Holy Spirit is now able to work in your life providing leadership, but it all starts with a decision. My series, The Supernatural Power of Making Decisions, will walk you through every step of launching out in this new journey.
Just making this choice initiates all manner of powerful internal changes. An interesting study I read shows that people who are optimistic about life become healthier and live longer. Twenty-five percent of people who are negative and expect the worst, die before they're 65. We think happiness starts when the circumstances in our life change, but the truth is happiness starts internally when we make new decisions. Join me this week to learn more about how easy it is for you to turn your life around and begin Stepping Into a Life of Blessing.