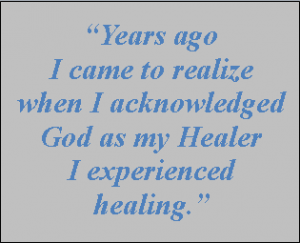 Psalm 140:13 says, Surely the righteous shall give thanks to Your name; The upright shall dwell in Your presence. Years ago I came to realize when I acknowledged God as my Healer I experienced healing. When I acknowledged God as my Peace I began feeling more peaceful. What I discovered is that I experienced the reality of the name I acknowledged!
Here are some of the names of God: Jehovah our Righteousness, Jehovah Who Sanctifies, Jehovah our Peace, Jehovah is Present, Jehovah Heals or Jehovah our Physician, Jehovah's Provision Shall be Seen, Jehovah my Shepherd and Jehovah my Banner of Victory.
When you feel the need for any of these aspects of God in your life begin to acknowledge His name. Acknowledge that He is true to His name. Thank Him for who He is in your life and you will experience the names of God through His presence!
Join me this week in Impact CyberChurch and we will discuss Entering Into the Secret Place, but even more specifically, you'll learn about entering into the secret place according to His name. Just click here!