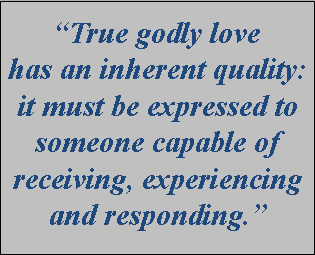 God created man primarily as an expression of love. True godly love has an inherent quality: it must be expressed to someone capable of receiving, experiencing and responding. God created man in His own likeness and image; therefore, we too have the inherent desire to want to give and receive love. In fact, since we are the only creation that is in His likeness and image, we are the only species that has the capability of experiencing God's love.
The Bible says we love Him because He loved us first. It also says that love is perfected in us when we love one another. The word "perfected" means "to be completed" or "to reach the fullness of expression." We live in a time when many people are saying that as long as we know God loves us nothing else matters; but that is not the truth. If we are experiencing God's love three very distinct things will occur: we will fall in love with (have value for) God, we will love (have value for) people and we will value (love) what God values.
If this is not the fruit of our interaction with the love of God there are only a few possibilities: first, intellectually knowing the love of God is not experiencing the love of God. Second, we may have brokenness in our heart that hasn't been healed that makes us afraid to love and trust. Then, there is the real possibility that we are not Loving in the Light. Love that is not based on God's Word cannot produce the fruit of the Spirit. CLICK HERE to join me in Impact CyberChurch as we grow in the love of God, love for ourselves, love for others and love for what God loves!