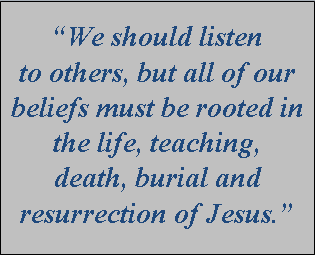 You don't know if what I say is true or if what other preachers say is true. What you know is true is what Jesus taught, lived and accomplished through His death, burial and resurrection. If Jesus is our Light, our Source of understanding and our Lord we will never interpret or apply God's Word inconsistently with what He taught.
Jesus never made one person sick. He healed as many as came to Him. He never left someone to struggle with the devil alone because they deserved it. He always fought the battle a person could not win on their own. He never put a curse or hardship on anyone as a means of teaching them; instead, He gave them the truth and offered them the opportunity to follow Him as a disciple. He warned people to stay out of sin, but never punished them for their sins. The only harsh words Jesus spoke to anyone was to the religious leaders who twisted and corrupted people's view of God.
Then we have the Covenant of Peace that God made with Jesus. If we are believers we relate to God on the basis of the Covenant of Peace. We know that we are hid in Christ in God, so God will only do to us what He would do to Jesus. Since Jesus took all of the curses of the law God will not put a curse on us and because He obtained all the promises God will not withhold a promise from us.
At some point every person must stop being led by preachers and teachers. We should listen to others but all of our beliefs must be rooted in the life, teaching, death, burial and resurrection of Jesus; otherwise, Jesus is not our Light, our Wisdom and our Truth!
CLICK HERE to join me this week and learn more about Jesus as the life, light and love of God as we explore Loving in the Light.