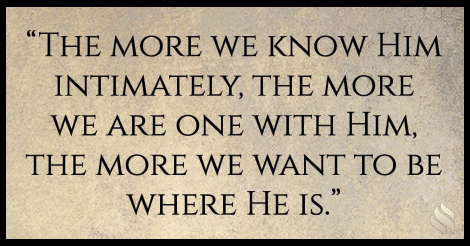 When Jesus said, I go to prepare a place for you, the listeners understood what He meant. He was referring to the groom who, under His father's supervision, was preparing a wonderful place for his bride. He was laboring to win her love. But what is the bride doing while he is preparing a place for her? She is preparing herself for him! One day, like the bride, we will hear the trumpet telling us our home is prepared and we will be called away to meet Him in the air. We'll be taken to the marriage feast of the Lamb and we will become one with Him! Being completely ready to meet Him and leave Planet Earth is what Jesus was talking about when He referred to having oil in our lamp, i.e. being fully prepared to leave this world. The more we know Him intimately, the more we are one with Him, the more we want to be where He is. JOIN ME this week and let's discover the secret of Becoming One with God.
Join Our Mailing List!
Subscribe to our mailing list and you'll get notifications of new posts along with advanced notifications of sales, special offers, and subscriber-only discounts!
Welcome to the Impact Ministries family! Please check your email to confirm your subscription!