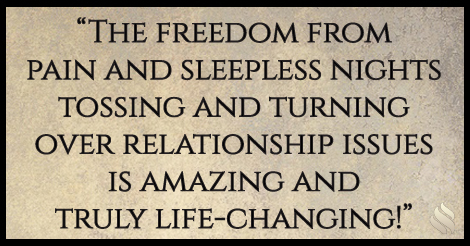 I first read this book about 8 years ago when a friend kept suggesting it. After reading the first chapter, I realized I was in a world of hurt! Only after understanding Matthew 7:1-3 was Dr. Richards able to forgive his stepfather of abuse. In my 30+ years of ministry, I've never heard anyone teach about the damage we do to ourselves when we judge to interpret the motives of others in light of ourselves.
I read each chapter over and over with my Bible next to me to check Dr. Richards' perspective and found my life was full of judgments. As I began to pray, God reminded me of this as I thought about past offenses. He reminded me that I couldn't possibly know the motives behind the actions–only He knows the motives of the heart. I learned to forgive the actions of others, regardless if it was intentional or not. Most importantly, I learned not to take others actions personally and to avoid making it about me.
The freedom from pain and sleepless nights tossing and turning over relationship issues is amazing and truly life-changing! I've given away and recommended this book hundreds of times. One of my friends in ministry bought 50 copies to give out after reading it! Must read!
If you'd like to learn more about HOW TO STOP THE PAIN in your own life, CLICK HERE to join us for our next Life Transformation Workshop called "How to Stop the Pain."