We are all blind to that which contradicts our life experience!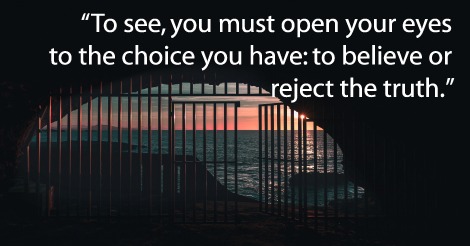 Recovering sight to the blind appears to be the pivotal point in the succession leading to a healed heart, freedom, and access to the resources of heaven. When you believe the truth about Jesus, you have the light that makes it possible to see the way clear to the Father and His resources.
Mark 6:41 says, "And when He had taken the five loaves and the two fish, He looked up to heaven, blessed, and broke the loaves." Before attempting to operate in faith, Jesus modeled exactly what we should do when we find ourselves in fear and doubt: He looked to the Kingdom of Heaven, connected with the Father, and recovered His sight. If I had a few fish and loaves of bread and needed to feed thousands, I know what my temptation would be: doubt. I would fear that I did not have the faith and that I would make a fool of myself in front of the people. So, if Jesus was tempted like us in every way, that would also be His temptation. When our life paradigm is being shaped by life experiences rather than God's reality, our circumstances cause us to perceive and ultimately believe that we are limited to our own abilities, resources, health, family, race, environment, etc.
Blindness is the consequence of your beliefs. To see, you must open your eyes to the choice you have: to believe or reject the truth. You need only to realize that the imaginary prison door of your beliefs only exist in your heart. It is not locked. You can believe the truth about Jesus, see the situation for what it is, and choose to walk out.
If you'd like to discover how you can have Heaven On Earth, CLICK HERE.