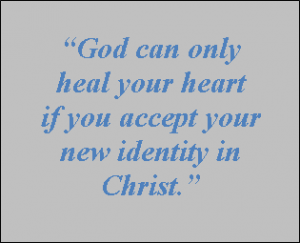 Therapy actually helps some people with certain problems; however, some actually get worse with therapy. As one man said to me, "I've spent over $100,000 in therapy over more than 10 years." I asked what he got out of it and he replied, "I discovered who I would blame." Talking about problems over and over sometimes magnifies those problems making them worse. In the end, all you will get are behavior management skills which can be very helpful, but that isn't the same as getting your heart healed.
It's important to manage your behavior, but in the end the most important thing is to get your heart healed through the love of God who offers you a new identity in Christ. A new identity is the product of new beliefs on the heart. God can only heal your heart if you accept your new identity in Christ. In my series, Freedom from Emotional Debt, I will help you discover the secret to establishing your heart in your new identity.
In this week's CyberChurch message you'll discover that Healing the Broken Heart begins when you let go of all you believe about yourself. This is what the Bible is talking about when it refers to "dying to self." The self that needs to die is the illusion of who you think you are based on the hurts, pains, and even the successes of the past. You will discover how to put on the new man the moment you stop clinging to the old man. This is the true leap of faith!