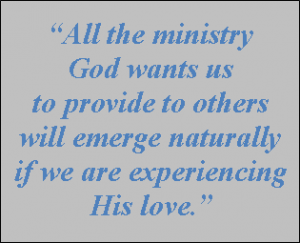 There is one question that few believers have ever consciously answered, but everyone has answered it in their heart: What is God's highest purpose for my life? God created us in His likeness and image so we would have the capability of a loving relationship with Him and with one another. People who are not whole are emotionally incapable of consistent, loving relationships! That's why Jesus began His ministry addressing the broken heart and its effects.
In my series, Freedom from Emotional Debt, you'll get past the shallow, surface concepts of being a believer and enter into the ultimate: a deep, intimate, personal, loving relationship with your Creator! Jesus explained that the most important issues in life are loving God, loving people and loving (or accepting) ourselves and God's love for ourselves.
All the ministry God wants us to provide to others will emerge naturally if we are experiencing His love. In fact, the Apostle Paul explained that all ministry should be aimed at getting people whole and then allowing them to minister to others. When we are made whole by the love of God we have a treasure that we long to share with others. Join me this week in Impact CyberChurch as I discuss Healing the Broken Heart and discover God's plan to launch you into your destiny!