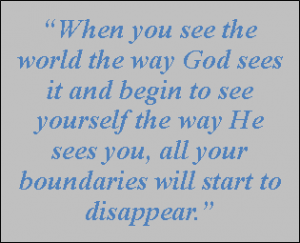 Everything in the political world, the educational system and even many churches make us feel that we are victims of fate and we have no control over our life. We feel others have more opportunity than we! A lifetime of this codependent influence actually alters not only our perception of the world, but our mind's capability to process life differently!
Your perception of the world is determined by the beliefs of your heart. Those beliefs create internal boundaries that we perceive to be external. That's why Jesus came to open our blind eyes. He had to bring us light (truth) so we could see the world from God's perspective. In my series Freedom from Emotional Debt I will help you find the courage to open your eyes and see the world differently than you've ever considered.
Once we have become accustomed to seeing ourselves as victims we have an excuse for our life's condition. Once we have an excuse for our condition we will rarely open our eyes to the truth because we are afraid of what we will see. We are so void of our true sense of identity in Christ we can't imagine living in victory. Join me in Impact CyberChurch for your deliverance from the Prison of Perception. When you see the world the way God sees it and begin to see yourself the way He sees you, all your boundaries will start to disappear.
Join Our Mailing List!
Subscribe to our mailing list and you'll get notifications of new posts along with advanced notifications of sales, special offers, and subscriber-only discounts!
Welcome to the Impact Ministries family! Please check your email to confirm your subscription!