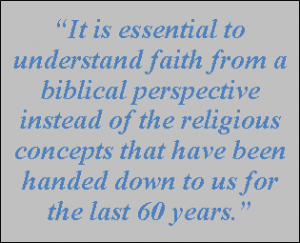 It is essential to understand faith from a biblical perspective instead of the religious concepts that have been handed down to us for the last 60 years. Faith starts with believing that God is who He says He is and that He is a generous rewarder, i.e. a Giver. Then you must decide if you believe Jesus delivered you from all the curses and qualified you for all the promises. In other words, the one and only thing that qualifies you to share in the inheritance is the fact that you are in Christ. Then you must see, perceive, conceive and experience the end result of your faith in your heart today, regardless of your circumstance.
When Jesus fed the 5000 He had a situation where the problem exceeded His natural resources. The KJV says He looked into Heaven and then blessed the fish and bread. In the Greek it says He recovered sight; then He blessed the fish and bread. In my series Freedom from Emotional Debt, I will show you how to recover sight before you attempt to walk in faith!
We attempt to operate what we mistakenly call faith when we have never recovered sight. We don't see God's promises as ours. We don't trust the nature and character of God. Join me in CyberChurch and experience deliverance from The Prison of Perception. When you surrender your limited perception you see the limitless possibilities of God, then you'll be at a place to speak blessings over your situation.