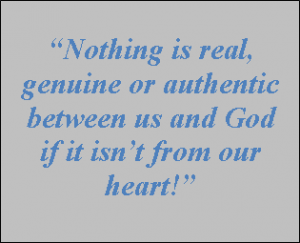 Honestly, there is something missing! From the earliest of times God always told man to trust in his heart, love from the heart, and obey from the heart. Throughout God's interaction with man He revealed more and more about His desire to relate from the heart. Finally, in the Book of 1 Samuel He explained this about Himself, "For the Lord does not see as man sees; for man looks at the outward appearance, but the Lord looks at the heart."
The first time I read that verse as a new believer my trajectory for life and ministry changed. But when combined with the previous verse it opened the eyes of my heart to how to have a lifelong love affair with God. The Lord preceded that verse with this, "The Lord has sought for Himself a man after His own heart." God is a heart God; He only relates to us from His heart to ours. And the kind of people He is seeking are those who will seek after His heart! Nothing is real, genuine or authentic between us and God if it isn't from our heart! In other words, the outward observance of rituals is meaningless apart from a heart connection.
The heart is the element that has been left out of Christianity for centuries. People go to church, give, read the Bible, pray and live clean lives, but if they never engage their heart it's all meaningless in contributing to our relationship with God. Those who have always triumphed and were used mightily were people of faith, and faith is from the heart!
This week in Faith in the Heart I'll help you make the transition from the outward to the inward. I'll help you connect and believe God from your heart, not just your mind.
In my powerful, faith-building series, Miraculous Probabilities: The Science of Faith, I'll open up an entirely new aspect of the supernatural which God programmed into creation for our benefit!
Join Our Mailing List!
Subscribe to our mailing list and you'll get notifications of new posts along with advanced notifications of sales, special offers, and subscriber-only discounts!
Welcome to the Impact Ministries family! Please check your email to confirm your subscription!