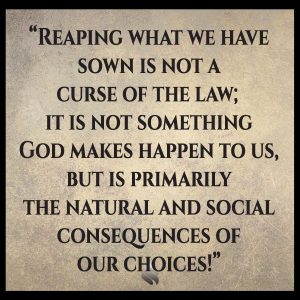 There are absolute laws of the Kingdom of God. Those laws are not legalistic in nature, but redemptive. They are given by the Creator of all things so that we might know how to enjoy the greatest life possible in this world He created! One of the most consistent threads woven through all the teachings of the Kingdom of God is personal responsibility. We must make our own choices, we must choose to walk in love and we must manage our lives in a way that inspires favor from those around us!
Reaping what we have sown is not a curse of the law; it is not something God makes happen to us, but is primarily the natural and social consequences of our choices! If I eat unhealthy food I'll probably be unhealthy. If I mistreat others it is likely I will have few friends. If I am lazy no one will want to employ me.
God's Word shows us what love looks like in action, and His grace empowers us to walk in love. Since we reap what we sow, when we walk in love two things will happen. We will inspire others to walk in love toward us, and we will tend to see past the things we would normally fear and criticize. So we can make sowing and reaping work for us or against us. It's all about choosing what we will sow. If you don't like what's growing in the garden of your life, consider planting different seed!
Amazingly, when we do not try to control and manipulate, we tend to not feel like others are attempting to control and manipulate us. CLICK HERE and join me as you learn more about living free from control!