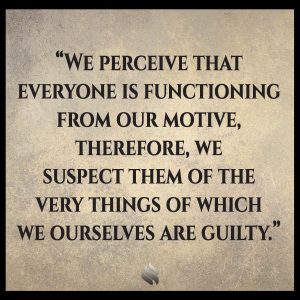 The Bible says, judge not and you will not be judged. With the measure you meet it will be measured unto you. That verse is not saying God will judge you when you judge; it is saying people will judge you. In Luke 6:37-38 Jesus makes it clear that it is people who pour back into our bosom pressed down, shaken together and running over, not God!
But the phrase the measure you meet implies that what comes back to us is in direct proportion to what we pour out, regardless of what the other people are really doing or intending. This is talking about projection. We perceive that everyone is functioning from our motives; therefore, we suspect them of the very things of which we ourselves are guilty.
If your compliments are disingenuous, you will not accept the compliments of others. If your acts of kindness are actually acts of manipulation, you will always think other are attempting to manipulate you.
CLICK HERE and join me this week to continue your journey of breaking free from real and imagined control. If you are truly desirous to break free from a life of judgment and criticism CLICK HERE to get your copy of How To Stop the Pain. Put an end to the pain of the past and stop generating new pain in the present by freeing yourself from judgment!