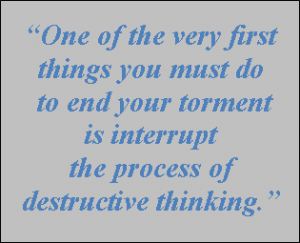 One only struggles with the things they think about. It's a biblical, universally-acknowledged law: what you think about grows in your experience. The things that torment us seem to get stronger because that's what we think about most.
The thoughts of the mind and beliefs of the heart are the biblical keys to freeing oneself from guilt and shame. One of the very first things you must do to end your torment is interrupt the process of destructive thinking. The moment a condemning thought comes to mind do something extreme to disrupt your brain's ability to run its usual course: shout No! Begin to worship or do anything that interrupts the thought.
To experience true Freedom from Emotional Debt, however, we must return to the light, i.e. the truth of what Jesus did for us at the cross. Immediately begin to remind yourself that Jesus has already died for your sin and it's already forgiven. Then begin to express gratitude for mercy given at the cross. Begin to acknowledge, see, imagine and experience yourself as hidden in Christ and completely righteous in Him. This is the faith that overcomes: it believes in Jesus' finished work no matter what our guilt and shame may say. Commit yourself to a life of godliness. Imagine yourself living in victory over all sin. Paul said to reckon, consider it so, that you are dead to sin and alive to God. Watch this week's CyberChurch message to discover the secret to no longer Stepping on Landmines!