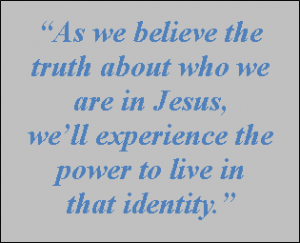 In the Old Testament the glory of God was usually manifested in a physical form. The word "glory" is a comprehensive word that has to do with greatness, splendor, majesty and brightness, to name just a few. But the word "glory" also has to do with "the view, opinion and reality of God." In other words, how He sees something is how it really is. We see ourselves through the lens of our life experience. We think how we see ourselves is who we really are, but God sees us in Christ as righteous, loved, accepted, healed, delivered, blessed, prospered and protected just to name a few.
When Jesus came He showed us the glory of God in a person. No, it wasn't a light shining from behind His head. It was the fact that He showed us what God was really like. He always healed the sick, He always forgave those who were in sin and He always walked in love. He expressed the character and nature of God! In John 17:22 Jesus said to the Father, the glory You have given me, I give to them. He then explained that the glory would manifest in the fact that we become one with Him and the Father. In other words, He'd give us the very nature of God so anyone could look at us and realize how wonderful God is! Freedom from Emotional Debt is the first step to allowing the glory of God to be released within us.
As we believe the truth about who we are in Jesus, we'll experience the power to live in that identity. The world around us will see Christ in us. They'll be drawn to what we have. Join me in CyberChurch this week and learn more about this incredible process of living in your true identity!