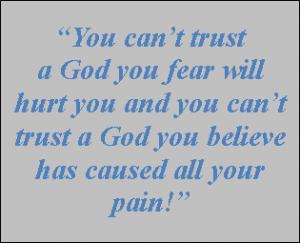 You can't trust those you fear. I grew up in an incredibly dysfunctional and violent home. My stepfather was emotional dynamite. You never knew what would set him off or what he would do next. He physically hurt my mom, my brother and me. We knew he didn't love us, so we were afraid.
The Bible tells us faith/trust works by love. In other words, once I come to believe God's love for me it's easy to trust Him. As long as I'm afraid of Him I can't have faith/trust. Religion has tried to make you afraid of Him and then criticize you for not trusting. Listen to this in 1 John 4:18-19, We need have no fear of someone who loves us perfectly; his perfect love for us eliminates all dread of what he might do to us. If we are afraid, it is for fear of what he might do to us and shows that we are not fully convinced that he really loves us. (TLB) In my new series, Freedom from Emotional Debt, you will take one more step into a wholeness that only comes from knowing and feeling the love of God.
Yes, the King James Version of the Bible tells us to "fear" God, but in the original language as well as when Jesus quoted those Scriptures, it never implies to be afraid of God hurting you. It implies a respect and awe that leads to love and worship. There's another blow by the religionists to your faith! You can't trust a God you fear will hurt you and you can't trust a God you believe has caused all your pain!
Join me this week in Impact CyberChurch and discover how the love of God will end your tendency toward Emotional Suicide. The more you engage God's love the more you will run to Him instead of away from Him. The more you will trust Him and not blame Him!