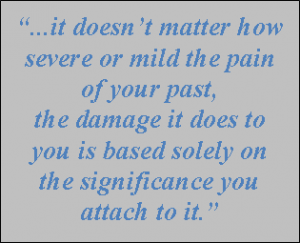 Those of you who know my story know that I faced a lot of pain as a child. I listened to my father beat my mother and my heart was filled with rage, hatred and murder. As a child I lived with my grandmother who was emotionally unstable. She constantly tried to convince me that I was unloved and tormented me with fear of being murdered in the night if I wasn't good enough. My stepfather knocked me unconscious the first time when I was about 11 years old. I was a runaway at 14, living on the streets. At 18 I went home to visit and my stepfather tried to kill me, stabbing me in my sleep. And the list could go on!
As a young pastor people came in and talked about their issues because their dad didn't come watch them play baseball. I always tried to be understanding and compassionate, but there was an inner part of me that was thinking, "Grow up; if that's all you went through you have nothing to complain about." In fact, I reached a place of realizing my lack of compassion and left the pastorate with no intention of ever returning.
In that year out of public ministry as I sought God I came to understand it doesn't matter how severe or mild the pain of your past, the damage it does to you is based solely on the significance you attach to it. In my series, Freedom from Emotional Debt, I will help you get past the judgments you have about yourself as a child. It was, in fact, those judgments that broke your heart and altered your self-perception.
Join me in Impact CyberChurch and I will help you understand how your self-judgement multiplies the pain you experienced and how you can move past it as we discuss Healing the Broken Heart.