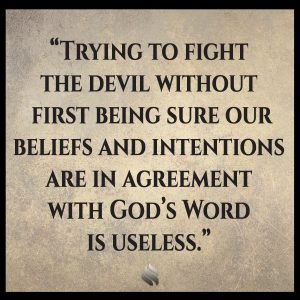 I don't totally disagree! However, the only way I can answer that question is to ask, "What do you mean when you say 'fight the devil?'" The Bible tells us two things to do to make the devil flee from us: submit to God and resist the devil.
The word "submit" has a general concept of: voluntarily yielding which leads to agreeing. Trying to fight the devil without first being sure our beliefs and intentions are in agreement with God's Word is useless. The second part of biblical warfare is to resist. This a word that can have a broad meaning but, in context, the fact that we have agreed or aligned ourselves with God means we have aligned ourselves in opposition to the devil, which is what it means to resist. Therefore, aligning with God's Word is, in fact, resisting the devil without having to place any attention on him. In that moment he flees, i.e. runs away to find safety!
But nowhere does it tell us to go into combat against him. If we begin to fight him to win a victory we have not aligned ourselves with God and His truth. According to God's Word that victory has already been won and we are already more than conquerors.
JOIN ME this week and discover how to be the kind of believer from whom Satan runs looking for a safe place.