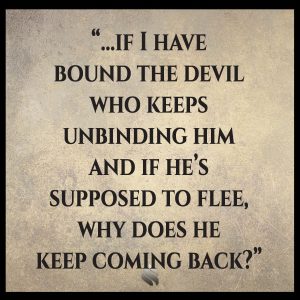 In the early 80s I, like most people of that era, found myself binding the devil when I felt I was under attack. In time, I had to ask myself a few simple questions: if I have bound the devil who keeps unbinding him and if he's supposed to flee, why does he keep coming back?
Then I did what we should all do in every situation; I opened my Bible and read every Scripture where Jesus encountered demons and I immediately realized I wasn't following His example; therefore, I wasn't having His results. When He was personally tempted He spoke the Word which He believed and the tempter fled. I then read the Scriptures telling me how to make the devil flee and realized those who taught me to bind the devil got it all wrong.
Binding and loosing have absolutely nothing to do with the devil. It has to do with what we will allow in our lives based on what God has accomplished through the Lord Jesus. It is the place where we establish the Kingdom rule and provision in our lives! By so doing we align ourselves with God and Satan flees.
JOIN ME this week and discover how to fight the good fight of faith instead of fighting the devil. Living in victory will become as simple as making a decision about what you believe!