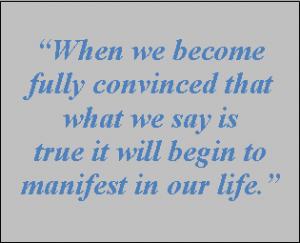 Financial stress has a negative impact on every area of our life. Once we get into desperation it's nearly impossible to see and believe God's provision. The writer of Proverbs prayed, "Give me neither poverty nor riches, but give me only my daily bread. Otherwise, I may have too much and disown you and say, 'Who is the Lord?' Or I may become poor and steal, and so dishonor the name of my God (Proverbs 30:8-9 NIV)."
Desperate people do desperate things. When we start taking ethical shortcuts it darkens our understanding and hardens our heart. Desperate people interpret the world as a desperate place where everything is a crisis.
Faith to be born again isn't the same as faith for other areas of God's provision. For any area we desire to grow in faith we must start by prayer: judging and reconciling. Judging our situation is simply looking at our life and asking the question, "Is this part of my life in harmony with the promises of Jesus?" If it isn't, then you must send it away! Speak to your situation and take a stand that you will not accept it.
The next step is to renew our mind about what God promises for that area of our life. When I began my journey out of poverty I highlighted hundreds of Scriptures about God's promise to provide.
Once our mind is renewed to align with the truth, we put on the new man in Jesus. In other words, we start to say about ourselves what God says, acknowledging that all the promises of God are "yes" because we're in Christ. When we become fully convinced that what we say is true it will begin to manifest in our life. I've seen it happen for hundreds of people.
Join me this week to dive deeper into New Covenant Provision. Just click here!