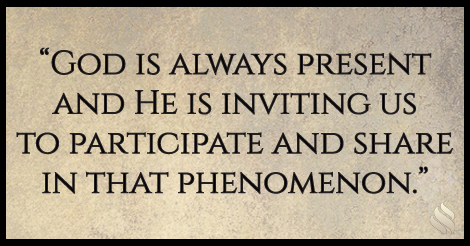 Throughout my entire history of attending church I have seen something consistently, but probably unintentionally, communicated that works against the reality of God! In nearly every worship service God's presence is ceremoniously invited. Many go a step further and command the devil to leave. While I believe the intentions of those leading the service are very sincere, they do, however, communicate something very unscriptural. It promotes the idea that Satan is always present, but God is not! God never leaves us, never fails us and never forsakes us! Jesus promised He would not leave us as orphans.
The more scriptural reality is this: God is always present and He is inviting us to participate and share in that phenomenon. We experience God's presence when we place our attention on Him; when we leave all else behind and make Him the focus of our heart, soul, mind and strength. Religion would have you think that when you worship God long enough, loud enough and fervent enough God will finally see how bad you want Him and show up.
Our relationship with God is no different than our relationship with our spouse or children. So many times they are present, but our attention is somewhere else. We don't have to call them into the room, we just pay attention. The Hebrew language teaches us that we should always "be looking up" i.e. be consciously aware and depend on God, while maintaining an awareness of what is occurring here in this natural realm. JOIN ME this week and discover the secret of Abiding in His Presence. Plus if you want to develop the capacity to always have the awareness of Christ in you, check this out www.moveyourboundaries.com.