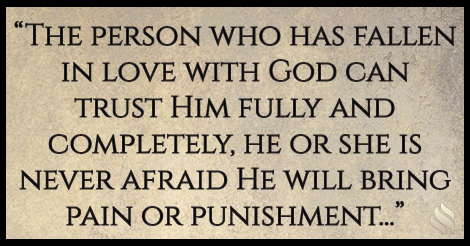 The truth is you cannot fear and love God at the same time. Fear and love are incompatible. The person who is afraid cannot trust the one they fear. Such love has no fear because perfect love expels all fear. If we are afraid it is for fear of punishment and this shows that we have not fully experienced His perfect love, (1 John 4:18, NLT).
The heart is the seat of love. Perfect love is a love that has reached its goal; it has been received and reciprocated. The person who walks in perfect love has not just received the love of God but has, in fact, given their love to Him fully and completely. The ancient Hebrews understood the fear of God to mean the fear of hurting your relationship with God by breaking His heart.
The person who has fallen in love with God can trust Him fully and completely, he or she is never afraid He will bring pain or punishment, their only concern is keeping the heart-to-heart love relationship alive.
If you've never loved anyone so much that your only fear was damaging the relationship, it's time you to discover real love that conquers all fears. JOIN ME this week as we explore The Missing Ingredient in this relationship: the heart. And if you're ready to take your relationship with God to a heart-to-heart love affair check this out www.moveyourboundaries.com.