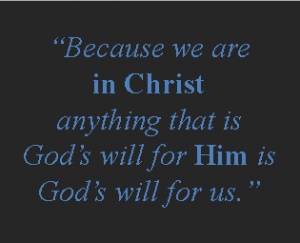 Usually when someone refers to the "will" of God they really mean the "willingness" of God. In other words, "What is God willing to do for me?" Our confusion about the will of God comes from hundreds of years of religious, unbiblical teaching to which we have been exposed. The Bible is clear about what God is willing to do for us.
Because we are in Christ anything that is God's will for Him is God's will for us. Anything He accomplished by His death, burial and resurrection is God's will for us. We are joint-heirs with Jesus; therefore, we share in His inheritance!
2 Corinthians 1:20 says, "For no matter how many promises God has made, they are "Yes" in Christ." So, anything He ever promised to anyone, if you are praying for that, His answer to you is "yes." Galatians 3:13 tells us we are "delivered from the curse of the law." Any curse that has ever come on anyone has no legal right to come on you. Colossians 1:12 tells us because we are in Jesus we are "qualified for the inheritance of the saints in the light." This means we have been qualified for every part of the inheritance just because we are in Him!
What does God need to tell us about what we have "in Christ" other than what He has said in His Word? Nothing! We just have to decide we believe what Jesus did is enough. Being in God's will is as simple as believing what Jesus did, believing we are in Him and believing what God has said is ours in, through and with Him! If we believe these crucial truths we simply make a decision. Check out my series, The Supernatural Power of Decision Making, to equip yourself to believe and choose what God has freely given in Christ.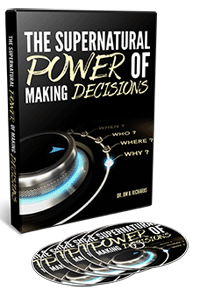 Once we know what we have in Jesus it is left to us to make a decision about whether or not that is what we choose for our lives. This week in CyberChurch we will break down religious myths that have crippled believers for centuries as we discuss, God is Waiting on You. Check it out!
Join Our Mailing List!
Subscribe to our mailing list and you'll get notifications of new posts along with advanced notifications of sales, special offers, and subscriber-only discounts!
Welcome to the Impact Ministries family! Please check your email to confirm your subscription!