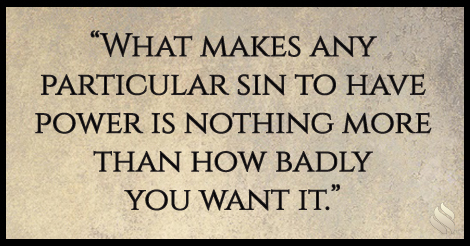 Religion classifies big sins and little sins, which the Bible says is not true. Charismatics and Pentecostals often blame sin on the devil insinuating that some demons are more powerful than others. But neither of these concepts actually provides a biblical basis for why we struggle more with certain sins.
Jesus said, "Where your treasure is there your heart is also." The Book of 1 John warns us not to love the world. The world is a system of values and philosophies that oppose God's morals, values and ethics. Plus, the world is the place we look when we seek to find pleasure through the five senses, i.e. the flesh. James warns that to be a friend of the world creates enmity between God and man. Jesus warned with the same language used in these verses, if you intend to love the world you prevent yourself from receiving the love of God!
When we "set our heart" on something or "intend" to pursue it, it is because we have attached value. That perceived value becomes the treasure we seek. We seek those things we believe will make us happy. What makes any particular sin to have power is nothing more than how badly you want it. The degree we desire something is the same degree that we push the love of God out of our life because we fear that walking with God will prevent us from having what we treasure.
JOIN ME this week and we will discover how to prevent anything from interrupting your relationship with God, while simultaneously providing you with a life that you will treasure above all things.
Join Our Mailing List!
Subscribe to our mailing list and you'll get notifications of new posts along with advanced notifications of sales, special offers, and subscriber-only discounts!
Welcome to the Impact Ministries family! Please check your email to confirm your subscription!