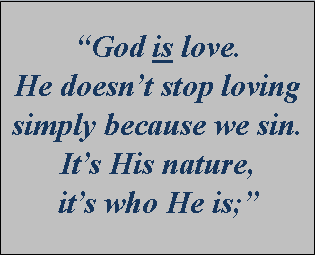 One of the most important things a person needs to believe to be whole, healthy and stable is that God loves us no matter what. The Scripture says, but God showed his great love for us by sending Christ to die for us while we were still sinners.  And since we have been made right in God's sight by the blood of Christ, he will certainly save us from God's condemnation.  (Romans 5:8-9 NLT)
God is love. He doesn't stop loving simply because we sin. It's His nature, it's who He is; therefore, we must realize there is nothing we do or don't do for His benefit. We don't need to change for Him, we change for ourselves. He won't love us more if we change and He won't love us less if we don't!
When we yield to righteousness we think, feel and function in a way that facilitates enjoying all the best there is in life. We're not earning it; it's just the way things work. If I walk in love I have peace in my heart. Peace is the base for emotional and physical health. If I feel better, I enjoy life more and I tend to succeed at life. When I enjoy life more and am free from the struggles brought on by poor character I have the emotional freedom and physical energy to give my life to what really counts. So, every part of my life is more enjoyable. If I am appreciative to God for teaching me the truth about how to have a great life and for the fact that He empowers me to live this life, I fall more deeply in love with God.
God's Word teaches us how to live so we can have the very best life possible. It pleases God when we are happy, fulfilled, prospering and healthy. When you understand that the Commandments aren't a list of rules we must obey to please God but a list of prescriptions for how to enjoy life, you will finally have value for the Word and embrace change and growth as healthy and positive. CLICK HERE to join me this week and discover the power of Transformation by Revelation.