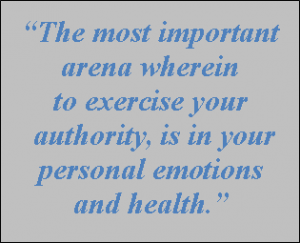 The most difficult part of my past to overcome was self-sabotage! Before I got saved and for a time after, I sabotaged my life, relationships and personal success. The reason this is so hard to overcome is because you don't see it; consciously you don't even believe it's true.
In my series, Freedom from Emotional Debt, you will learn how to identify and resolve psychological reversals. A psychological reversal occurs when we believe one thing in our conscious mind and another in our heart. Until it's identified and resolved we will continue to repeat the same patterns in our life, all the while believing it's caused by others!
In My Personal Journey to Wholeness, I discover areas where I still sabotage myself, but thanks to God's Word and His empowering Spirit, when I realize I'm doing it I send those offenses away. I stop those patterns from running in my brain and you can, too!
God has given us authority! The most important arena wherein to exercise your authority is in your personal emotions and health. Check out the exercises I provide for you to stop self-sabotage in its tracks in my series Freedom from Emotional Debt.