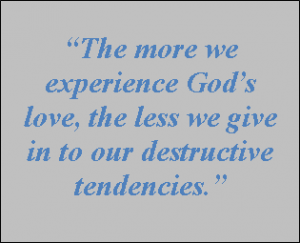 Righteousness is a gift that begins on the inside and works its way outward affecting the way we think, feel, make decisions and behave. Sadly, most believe that one day they'll "get right" and God will reward them with peace. If I focus my beliefs and attention on the fact that I'm righteous in Jesus, righteousness will permeate my mind and emotions, filling me with peace and joy.
If we're trying to "get right" there will always be a tendency to focus our attention on what's wrong and try to fix it. Trying to "get right" is a negative venture; it's completely focused on what's wrong. As we focus on our faults we lose confidence in our connection to God. Check out Freedom from Emotional Debt if you want to move past your feelings of guilt and inadequacy.
Since righteousness is a gift we accept because we trust God, we don't have to attempt to fix ourselves. In fact, if we accept God's gift of righteousness our main focus needs to be on getting whole. We become whole when we are connected to Jehovah as the Creator, Father and God who completely loves and accepts us in Jesus. The more we experience God's love, the less we give in to our destructive tendencies. Join me in Impact CyberChurch to get your priorities where they should be: Getting Whole or Getting Right
Join Our Mailing List!
Subscribe to our mailing list and you'll get notifications of new posts along with advanced notifications of sales, special offers, and subscriber-only discounts!
Welcome to the Impact Ministries family! Please check your email to confirm your subscription!