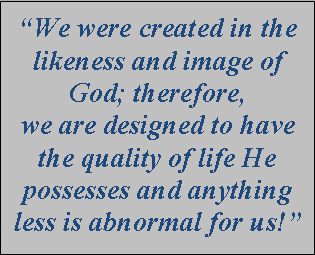 The word "life" comes from a word that means "the quality of life possessed by the One who gives it." We were created in the likeness and image of God; therefore, we are designed to have the quality of life He possesses and anything less is abnormal for us!
Jesus said, " I have come that they might have life to the fullest." He also said, "This is eternal life, that they may know You, the only true God, and Jesus Christ whom You have sent."  Therefore, the ultimate key to experiencing the life of God is knowing and experiencing God personally and intimately! It's all about communion, i.e. fellowship.
The catch is, as much as most Christians talk about Jesus few have any concept of how Jesus fits into this equation of knowing God. It's as if many think we can know God independently of knowing Jesus, or that knowing Jesus and God are two separate factors.
We cannot know the true identity, character and nature of God unless we interpret all Scriptures in light of what Jesus taught, lived and accomplished through His death, burial and resurrection.
We spend our faith trying to believe for individual things to improve the quality of our life when we should be using our faith to believe the truth about God. Getting more things won't bring the life of God, but experiencing the life of God through an intimate relationship can empower us to get things. CLICK HERE to join me this week as we discuss Light, Fellowship, Faith and Life.