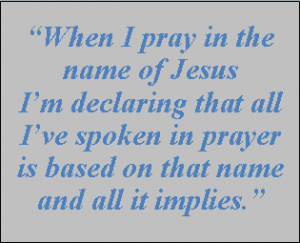 For too many people praying "in the name of Jesus" is nothing more than adding "in Jesus' name" at the end of our prayer; but invoking any of the names of God in prayer is more about acknowledging our trust that God is who His name reveals Him to be and His character is as His name reveals it to be. It's about trusting God's response because we trust and believe in His name.
When I pray in the name of Jesus I'm declaring that all I've spoken in prayer is based on that name and all it implies. Likewise, as I worship the names of God (as Jesus directed) I'm declaring that all I've prayed, all I've asked for and all I've declared is based on His names!
Since God's name is "Jehovah, whose provision shall be seen" I can boldly declare my trust in His provision. Because He is "the Lord Who heals" I know He will never make me sick; moreover, I know it's His desire and nature to heal me. Because He is "the Lord, our Shepherd" I know He will always lead me in the path of life. As I acknowledge His names I connect with these attributes.
In the end I know all He has is mine for one reason: I am in Jesus and I believe what Jesus accomplished is mine. I'm qualified because I'm in Him. I have all the answers to all my challenges because I'm in Him. Jesus taught us to pray, "Hallowed be Thy name." This week in Impact CyberChurch we'll discover the power of entering into the Secret Place by the name of our God. Come with me and let's take the next step forward in a prayer life that really works!
Join me this week in Impact CyberChurch and we'll learn more about Entering Into the Secret Place. This will transform your prayer life from dull and boring to alive and exhilarating!