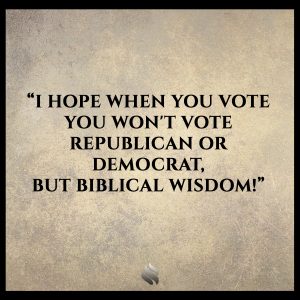 Tomorrow will be one of the most important days in the history of our country. In fact, what happens tomorrow at the elections will probably determine the remaining history of the United States and the ramifications could determine the history of the world as we know it.
I know this sounds dramatic, but we know what the Bible says about the times we are now living. I hope when you vote you won't vote Republican or Democrat, but biblical wisdom!
Join Our Mailing List!
Subscribe to our mailing list and you'll get notifications of new posts along with advanced notifications of sales, special offers, and subscriber-only discounts!
Welcome to the Impact Ministries family! Please check your email to confirm your subscription!