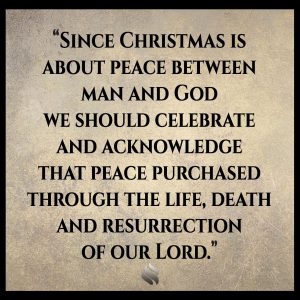 Just as the angels announced, there was now going to be peace on earth and goodwill from God to man. This would be the first time since the Garden of Eden that there could be peace between God and man. The Messiah would be our righteousness. If He is our righteousness we are accepted by God as He is; we are as qualified for all the promises as He is because we stand before God in His righteousness, not ours.
Through the resurrection Jesus would qualify us for the promises, but through His death He would deliver us from the curses. When believed and accepted these two actions become our basis for peace. The Bible says, having been justified by faith, we have peace with God through our Lord Jesus Christ, through whom also we have access by faith… It is this very factor that makes Jesus our peace.
Since Christmas is about peace between man and God we should celebrate and acknowledge that peace purchased through the life, death and resurrection of our Lord. His birth was the manifest pathway to our peace. CLICK HERE to join me this week as we discuss The Curse is Broken. Let's discover all the reasons we have to celebrate the birth of our Lord!