Abraham is the "Father of Faith." He showed us what the process of fully persuading our heart to overcome all the obstacles really looks like. Abraham believed God as much as he knew how based on the degree of truth he had. But as we've already discussed, his journey to being fully-persuaded and actually receiving the promise was a journey, not an event.
The crux of his stability while making this journey was rooted in one primary factor. God called him righteous because he was willing to believe. God "called those things that be not as though they were." Abraham wasn't really righteous but God related to him as if it were true!
In the New Covenant we really are made righteous in Christ. It is this one belief that forms the basis of our stability. Righteousness is the one qualifying factor for all the promises and escape from all the curses. The moment we lose our sense of righteousness we no longer feel qualified. In my series, The Miraculous Power of Making Decisions, I will walk you through volumes of truth that will establish your heart in righteousness!
The Bible says Abraham didn't waver through unbelief… but gave glory to God. The word "glory" is an incredible word that speaks of God's brightness, splendor and majesty, but it also speaks of God's view and opinion as the reality!
What we choose to believe becomes the reality we come to experience. God called Abraham righteous so he chose to accept that as his own personal reality. When we choose God's life and blessing we choose His reality. We think about life from His perspective, we talk about it from His perspective and we persuade our heart until God's perspective is the only reality we accept.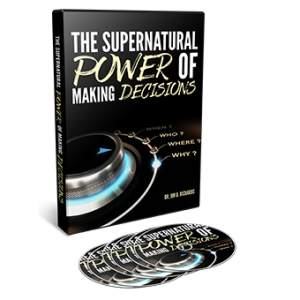 This week in CyberChurch I will show you how to step into God's reality, leaving yours behind! In my message, Confessions of a Persuaded Heart, you, too, will learn to give glory to God and end your wavering.