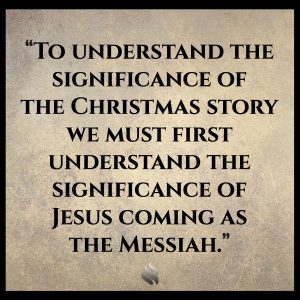 To understand the significance of the Christmas story we must first understand the significance of Jesus coming as the Messiah. Man had never actually seen God properly represented here on earth. Many wonderful, godly people had represented God to the best of their ability, but they were all flawed men with a sin nature. They had never seen God; they were deducing His nature and character from what they read in the Scripture which left enormous room for personal interpretation. The Messiah was with God, was a member of the Godhead and was without sin and, as such, was the only person who had ever lived or would ever live that could properly represent God. Hebrews says He was the perfect representation of God.
As our High Priest He emptied Himself and became a man in every way. He had been tempted every way just as we are, yet always overcame temptation. As such He was the only person who would be merciful to us in our struggle and the only one who could show us how to always overcome sin.
As a man filled with the Holy Spirit He was the perfect model of what man could really be and do. No other person had ever allowed the Holy Spirit to flow through His life without measure. Because He did all He did as a man filled with the Holy Spirit, for first time we could look at Him and say, "I can do that!"
The Christmas Story shows how Jesus' birth came about in the exact manner as God foretold. The Christmas Story, when understood from a truly biblical perspective, is the first step in creating immovable trust for Jesus as the perfect representation of God, the perfect representation of man filled with God and ultimately the perfect sacrifice for our sin.
CLICK HERE to join me this week as we dive into The Power of the Christmas Story. Start your journey of immovable, unquestionable, undeniable trust for Jesus and all He provided for us!