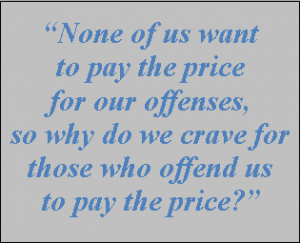 That's the driving logic behind all legalism: don't let people get by with anything. The legalist thinks making people pay a price will teach them, but the Bible teaches that when people violate civil law they should pay the prescribed biblical penalty. This protects the innocent and sometimes helps the foolish learn there are consequences. When people act foolishly with health, finances or other areas of personal responsibility they should live in the consequences. The Bible says if we deliver them we'll only have to do it again. But when people offend us our deepest desire should be that they're healed from the pain in their own hearts so they will stop hurting others, which equals healing!
After years of a spotless record, King David, a man after God's own heart, backslid, committed murder and adultery and caused the deaths of thousands of Israelites. That was when he wrote the Psalm that said,: "Blessed are those whose lawless deeds are forgiven, and whose sins are covered; Blessed is the man to whom the Lord shall not impute sin." None of us want to pay the price for our offenses, so why do we crave for those who offend us to pay the price? Maybe we think they'll learn, or maybe we just want revenge; the reason doesn't matter. If we want to be like God we need to respond to everyone the way God does, with love and mercy.
Pain and suffering of consequences is the last hope of the unteachable fool. Consequences are the only hope they have because they refuse to listen and be taught. But most people learn through our personal example of love and mercy, the Holy Spirit working in their heart and the Word of God!
Join me this week as we explore the God-like quality of giving others better than they deserve. The first step to us connecting to God's mercy is expressing His mercy! CLICK HERE to join me in Impact CyberChurch.