"Behold, I lay in Zion a Stumbling Stone & a Rock of Offense & whoever believes on Him will not be put to shame." Rom. 9:33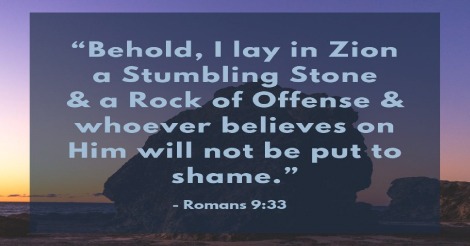 Stumbling hurts! People stumble over the issue of righteousness, almost more than anything else. It's the offense of the gospel, the struggle of our faith. It's a struggle because many people live in legalism. Works-righteousness makes it impossible to live up to the standards, resulting in condemnation or feeling disqualified for the promises. The main reason faith righteousness is such a struggle, however, is simply unbelief.
God offers us something better than anything we have ever seen, heard or imagined, but our mind always seeks to make us feel safe by proving we are right. The unrenewed mind says, "It sounds too easy. It sounds too good to be true. I can't believe that." The heart, on the other hand, always seeks to preserve our identity and our connection with God.
The way to stop stumbling is to start believing on Jesus as He lived, died, & was resurrected. Consider whether Jesus really is the way for you and if you desire Him to lead you to a life better than anything you've ever heard, seen, or imagined. Make the decision, "Jesus, I'm going to trust You and stop twisting the truth to convince myself of a better way to have this incredible life. I won't settle for less."
If you'd like to discover more truths behind Finding Divine Life, CLICK HERE to watch this week's CyberChurch message "The Offense of Righteousness."