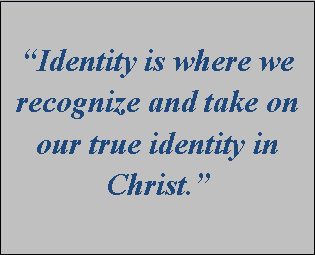 Identity is where we recognize and take on our true identity in Christ and a whole and healthy life begins. Self-image is where we transform into the image of the One to whom we look for identity. Self-worth comes from the recognized value that our Source of identity has for us. All of these aspects of life must happen in our relationship with God, otherwise we will attempt to fulfill these inherent needs by getting others to accept us which leads to the fear of man or the need to be a man-pleaser, or we might look to our accomplishments to meet these needs which leads to an inflated ego, over estimation of self, as well as lying to exaggerate our self-importance.
Self-confidence is the result of how we live. Since all of God's will is fulfilled when we walk in His definition of love, the Apostle John specifically pointed to our love walk and its effect on the conscience. Our mind requires factual evidence to believe anything. When your life doesn't line up with your confession your heart comes to believe your confession is a lie and your heart becomes condemned.
This conflict in our heart, if not resolved, leads to hardening our heart as a means of emotional survival. When this happens we stop hearing the voice of God. Eventually our faith is destroyed and we become alienated from the life of God – not because God has taken it from us, but because we have hardened ourselves to any involvement with God!
The great thing is God has never stopped speaking to us or attempting to lead us. Even when we aren't faithful He remains faithful. When we turn our hearts back to Him we pick up exactly where we left off. CLICK HERE to join me this week and discover how to establish a strong internal hierarchy which keeps you strong in the faith and confident in the reality of Christ in you!