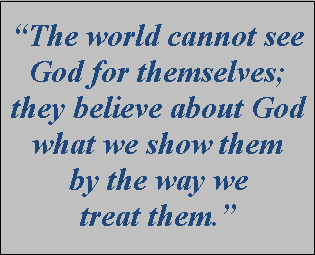 Three different times the Bible states that no man has seen God. The first time is referring to Jesus who came to show us God as He really is. Since Jesus was God as a part of the Trinity, He was the only Man qualified to show us what God was really like. Jesus showed us that more than anything else, God is love. In fact, He told us to interpret all the law and prophets from the perspective of love.
The second time the Bible mentions no man has seen God is in the Book of 1 John as he is telling us to walk in love. Unlike the teachers and rabbis of old, we don't have to read God's Word and guess at how to apply it. We know it has to be interpreted and applied from the motive of love. How do we know that? That's what Jesus taught and modeled! Because we have seen Him we know how to understand God!
The final time this reference is made is in 3 John. This time the statement is made in reference to our behavior. He makes it clear that when our behavior is consistently not good it reveals that we have never really seen God.
The world cannot see God for themselves; they believe about God what we show them by the way we treat them. Like Jesus, when we walk in love as God defines it they will believe that God is love. When we walk in love we provide the light for them to see God as He is and interpret God's Word as He intended. CLICK HERE to join me this week as we explore what it means to Love in the Light.