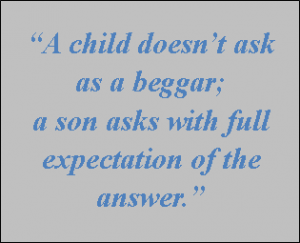 Our concept of asking God isn't even close to what the biblical phrase means. We aren't attempting to move God to action; He isn't resistant to helping us. The person who asks without knowing the answer isn't praying in faith. But in the context of prayer, the problem may be the fact that we have ignored Jesus' teaching to connect to God as Father before we move into any other aspect of prayer.
To approach God as Father means we recognize that He is our Father and we are His children and heirs – joint heirs with Jesus. Too often believers approach God as a beggar or servant instead of a son. Beggars and servants don't have rights and they never know what the master is willing to give. They have no position in the family, they aren't heirs, nothing is theirs and everything is a handout.
A son is a family member with all rights and privileges. He or she knows that all the Father has is theirs. A child doesn't ask as a beggar, but with full expectation of the answer. When Jesus said to pray "give us this day …" the phrase "give us" means "to give what is due; to give or do something in fulfillment of an obligation or expectation." A son knows he is loved, knows he is accepted and knows the Father freely gives all things!
This week in CyberChurch you will grow in your understanding of Knowing God as Father. This message may be the ultimate transformation in your prayer life; it will change everything!