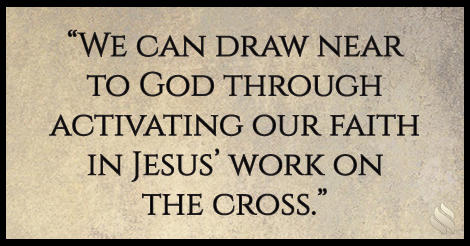 The faithfulness of God is shown in the fact that He never leaves or forsakes us. Because of that loving characteristic, when we seek Him we always find Him. He doesn't play spiritual hide-and-seek. Yet, there are always those times when we feel distant from God. A believer of the Old Covenant could bring a "draw near" offering to God and, when done in trust for that which God promised, the eyes of their heart would be opened in a way that they could reconnect with God. In the New Covenant we are made near by the blood of Jesus (Ephesians 2:13). In the New Covenant Jesus' death on the cross is our "draw near" offering, whether it is for the unbeliever coming to Him or the believer whose conscience is violated, whose heart has grown cold and hard, the one struggling with sin or the one who simply feels far away! We can draw near to God through activating our faith in Jesus' work on the cross. JOIN ME this week and discover what you can do to draw near to God and draw near to people you love.
Join Our Mailing List!
Subscribe to our mailing list and you'll get notifications of new posts along with advanced notifications of sales, special offers, and subscriber-only discounts!
Welcome to the Impact Ministries family! Please check your email to confirm your subscription!